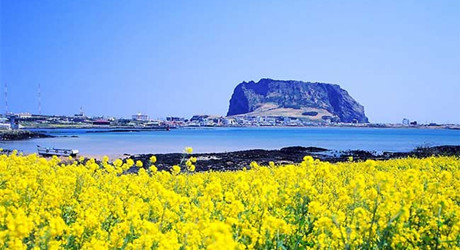 Visa-free Entry to Jeju: 180 Countries.
Since Jeju is Special Autonomous Province, Jeju offers a very flexible entry/departure policy, which allows visitors to stay without a visa for up to 30 days.

Only 24 countries are required to apply for a visa: Iran, Sudan, Syria, Macedonia, Cuba, Kosovo, Palestine, Afghanistan, Iraq, Ghana, Nigeria, Yemen, Egypt, Gambia, Senegal, Bangladesh, Kyrgyz, Pakistan, Somalia, Uzbekistan, Nepal, Cameroon, Sri Lanka, Myanmar

Duration of stay: Up to 30 days

Conditions of entry:
• Those that arrive directly into Jeju island by flights or ships.
A Chinese tourist group arriving at the Incheon International Airport, who intends to travel to Seoul and Gyeongggi Province within 12 or 24 hours and then go to the Jeju island by transferring to the domestic flight. (Domestic connecting flight) - (Here in after referred to as 'group transit passenger to Jeju)
• For a group transit passenger to Jeju, a person must join a tour program of Korean travel agents that serve Chinese tourists groups only and that are designated by the Ministry of Culture, Sports, and Tourism, and the Chinese travelagents in charge of a group visa application at the Korean embassy or Consulate General in China. Also, a group transit passenger must hold adomestic airline ticket to the Jejudo Island in which a flight departs within 12 or 24 hours
Letter of Invitation: Conference participants should familiarize themselves with visa requirements well in advance of the conference. The conference organizer encourages you to apply for your visa as early as possible, who cannot intervene with Korea Embassies abroad on behalf of any participant. However, if you need a personal letter of invitation to attend the Conference, we can send it to you by email.